Shyla Dazzling -LUSCIOUSLY SKILLFUL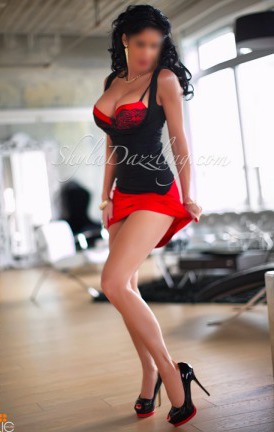 Phone: (305)607-8747
Email: Shyla.Dazzling@gmail.com
Website: www.shyladazzling.com
Gender: Female
Age: 40
Hair: Black
Eyes: Brown
Ht: 5'8
Wt: 130 lb
Bust: 36D
Waist: 26
Hips: 36
Affil: Independent
Ethnicity: Latin
Available to: Couples, Men
I am a refined, exotic and intellectual companion that speaks English & Spanish, who will delight your senses and seduce your mind. I genuinely love to tease you as your secret girlfriend (GFE) enjoying the pleasures of life or escalate our encounter in a playful open minded environment. I enjoy the adventure of meeting you to discover exciting ways to make our tryst extraordinary.
In my care I'll be sensitive to your needs and attuned to your soul's desires. You will adore my natural flirt and my highly sensual dance that combined with my stellar talents will make you feel extremely pleasured. It gratifies me to take care of you; you deserve it! Relax; let my extensive experience guide you during our encounter.
I have traveled to multiple countries during my professional career and manage myself smoothly at all levels in social gatherings. I enjoy creating conversation themes to keep you entertained or challenge your mind with new ideas. I dress with elegance and a flirting touch according to each social situation. I am your perfect date for business gatherings, a private dinner or a trip.
I am mature enough to know what I like and experience it freely and audacious to enjoy the excitement of a covert affair with generous gentleman. My acquaintances find my mind seductive as much as my figure tantalizing.
MIAMI / FT. LAUDERDALE Season Special Donation's:
-A taste of the best seduction ………….. 400 /1hr
-Enjoying your adventurous Angel …….. 540 /1.5hr
-Discovering the naughty GFE …………. 750 / 2hr
-Intimate affair …………………………….1,100 /3hr
-An evening of pleasure ………………..1,400 /4hr
-Overnight experience …………………. 2,600 /12hr
-Traveling ………………………………….. 3,200 /1st day, 1,200 /additional day + travel expenses
-A girlfriend or male friend ……………. email/call
-Your additional male……………………. 200 /hr
-Couples…………………………… add 400 /hr, plus 300 for additional hrs
-Touring……………………… 430/1h, 580/1.5h, 800/2h, 1180/3h, 1500/4h
Additional travel fee for other cities
CORAL SPRINGS, POMPANO, BOCA RATON – 30
WEST PALM – 60
NAPLES – 100 (min 2hr)
TAMPA, ORLANDO – email me
Donations are for Companionship time only, not negotiable and due upon arrival. Incall could be arranged.
TO SET OUR MEMORABLE DATE GO TO MY WEBSITE SECURE RESERVATIONS FORM!
If you prefer email or are member of a screening site still include ALL the applicable fields of my reservation's form. (Established friends email me details)
The screening process is discrete and required, It takes time; try to pre-arrange our meeting at least 24 hours ahead. I do not compromise my safety standards and might not be able to accommodate short notice requests.
If you don't want to provide your full legal name, seeing an upscale companion like me unfortunately is NOT possible.
You will adore my companionship in many ways. COME TO DISCOVER HOW WICKEDLY STIMULATING I CAN BE! SEE MY STYLISH PICTURES AND VISUALIZE YOURSELF INDULGED BY AN ESQUISITE SULTRY LADY.
Let me truly captivate your senses,
Shyla Dazzling
I DON'T use to text messages. Once screened we can talk.
Phone number
(305)607-8747
Link to reviews (the erotic review)